I'm on the SEPTA regional rail chugging toward downtown Philadelphia.
We needed rain terribly. As Scott said, the ground was as hard as concrete!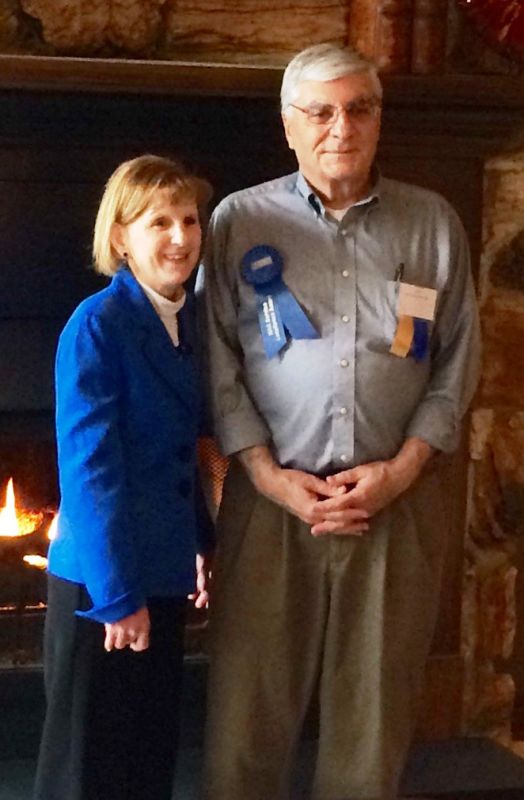 Tony Salvatore
But I digress, as always
Sarah was passing thru Philly on her way home from DC. She had attended a very unusual bar mitzvah of the son of her childhood friend Heather.
It was held in an old mansion. The rabbi and young Ben had a very contemplative adult discussion, reminiscent, she said, of her days at Brown University.
She had also recently attended her 20th year reunion from Brown. We discussed her late father, Mike, and I said he had absolutely no right dying. But die he did.
At the White Dog we had a fab waiter named.... Joe.
"How many kidneys dyou think Sarah has?" I asked Joe.
Words cannot describe how good they were.
Altho I don't eat bread - too many carbs - the butter was so unusual - I ate a couple of bites so I could munch on the aoili, perhaps, and truffle oil.
View menu here
.
Scott and I had eaten here. It was also where Ada Fleisher's daughter/law had her wedding shower. On that day, the snow was really coming down.
I went around the corner to see where sculptor Robinson Fredenthal had lived. I wrote a portrait about him for
Art Matters.
Robin
died in 2009
. He was 69.
Naturally she and I exchanged bites.
Afterward, we walked off the food on the beautiful streets of Philadelphia, heading toward 30th Street Station, a 20-minute walk.
A magnificent many-columned building was lit up far ahead on our left.
Sarah, I said, what's that building? The post office?
That's 30th Street Station, Mom, she said.
She got ready to take the AMTRAK back to Brooklyn, while I waited for the 10:30, via the Warminster Line, to Willow Grove.
My wait was about an hour and a half.
I sat reading
It's hard to read this riveting book b/c you get into the mind of a very disturbed young character, the narrator's son, who is on a killing rampage.
Dan used to love Boyle, which is why I checked it out.
It was so hot waiting in the train station perspiration was dripping from my head.
I could not wait to get home!
On the platform, people were reading their phones and drinking plastic containers of iced tea or water.
Scott always mentions "the cleaners" to me who work at SEPTA. There they were, across the track, sweeping the concrete and emptying the many trash receptacles. They make very good money as they're all unionized.
Me and one other guy got off at Willow Grove. The two of us strode up a steep hill. I'd parked my car across the street by Mandarin Garden, while he just kept on walking.
We both wore back packs. Mine was stuffed with: an umbrella, fat book, i Phone, which is heavy, but I used it to call Sarah b/c she wasn't there to meet me.
Why? I had gotten off at the wrong station.
As a gift for Sarah, I bought her a
in memory of our Mediterranean Cruise.
She told me about her very busy week.
The Bad Plus will be playing in Philly this summer. Let's check and see when.
Great new photo of The Bad Plus. BUT only two people show up on my blog. Sarah's husband Ethan, the pianist, is in the middle. See their
website here.
Holy cow! They're coming to
The World Cafe, that's WXPN
, on June 13.
Was that lightning? I'd better get my flashlight ready just in case. Visited my friend Helene this morning at Rydal Park and she gave me an issue of The New Yorker I wanna start reading.
There's a story in there by
He may be a rock star, he may be an astrophysicist, or he may be Stephen King.