Was at the Huntingdon Valley library at 11 am to watch Lady Bird, a coming-of-age film that I didn't much care for. Jane Lynch chooses all the films and does a great job.
Hear the music coming from the TV two rooms away? It's live from Lincoln Center.
View
it here
.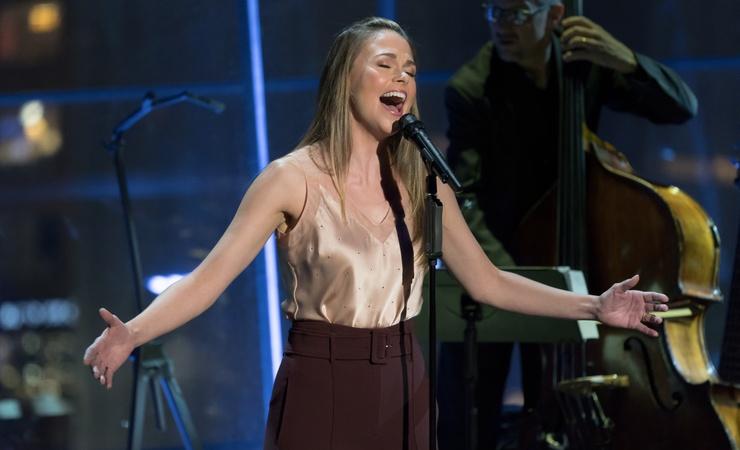 This is Sutton Foster, one of the most famous and beloved of all Broadway stars.
Please, not a word. I've never heard of her.
After my Acer Laptop sputtered itself dead, I made copies of six poems to read tonight.
At naptime, Scott and I watched the last disk on Homeland. The prophecy that Dar el Dar made came true. Madame Presidente (should I put an 'e') after her name? - has a dark side. Everyone is getting arrested including Saul Berenson.
Soooo exciting! The only way to find out what's happening is for Scott to buy Showtime, since he has cable. He'll wait it out.
Hobson's Choice the morrow. Either go to my sister Donna's b'day party, depending on how my mom feels (she can barely walk) or participate in the Pennypack Trust's Walk/Run.
Scott said it would be easy cause of all the stationery biking I do. Just biked 20 minutes while watching Sutton Foster, who ended up tap dancing with Jonathan Swift, not his real last name.
After I finish this blog I'll look up 'marathon running.' I've got my close laid out - sneaks with pink sox, loose pants with pockets, I'll carry my backpack with a bottle of water.
Cheer me on from afar, Dear Readers.
Lynn Levin looked fetching in a warm striped sweater. She was a great host. Read some new poems including one about a cellphone, watching people walk into walks, and Howling, like the Ginsberg poem, and a mysterious line she loves from Lord Jim by Joseph Conrad. I could never get thru that book, tho I did read many others by him.
Yeah? Search your mind, Ruthie, and remember a couple. Maybe later. Victory?
PRINCESS DROSOPHILA
At the Nobel ceremonies
earlier this year one of the
professors in black tie
and tails, and a sassy
red bowtie like former
Nobelist Eric Kandel
Will also bring his
favorite pet. The schnauzer
twins will be left home
in the company of the handmaiden.
But the Princess will attend.
She is none other than
the Princess Drosophila Melano-
gaster, with her sparkling green eyes
and the cute little bzzzz
she makes, moreso when she is being courted
by a comely lad.
One day they will marry in the compost heap
in Ruthie's back yard. Perhaps on a brown
egg shell
decomposing.
The Princess will bow to the King and Queen
of Sweden as does her master. Afterward they
will dine at a long teakwood dining table.
Twitching her wings, she will dine under
the table on fallen food.
***
SUCKED OUT
It happened so fast
like being pushed down
a sliding board like that
mean Erik Turner in kindegarten.
A million thoughts crossed my mind.
Mike, of course, the kids, God please, don't
let me die. What did I do to
displease you so?
Too late. The guy wearing the cowboy
hat and a firefighter tried hard
but the force of a hurricane
had its way with me, little Jennifer
who sped down the street on her
blue bike as if there
were no tomorrow.
No tomorrow.
About the Boeing Airplane with one engine out that landed on a field in Philadelphia.
***
RAIN
Fun at first, you'd hear it on the roof
while going to sleep, close your eyes,
and be in the moment, as they say. In the
morning you'd wake up and peek out the drapes
your car was wet, the garbage cans shone with
liquidity, and a little rivulet was rolling
down the street, MY STREET, not quite a
hurricane, but still, and it saddened me.
I've accepted it.
Did you know the last of the five steps of grief is
acceptance? She was a homely woman that
Dr Elisabeth Kubler Ross. My friend Dotty
who I've lost touch with, was invited by
Dr Ross to assist on her healing farm
in Virginia. I wouldn't have gone either,
Dotty. Death talk stiffens me.
Today when I got in the car, I wore
my wool coat and wool beret, made in
China, and all the little papers I keep
in the little pouch on the driver's side
were slapped hard by the rain. Stop it!
I yelled. I need to read the damn things.
They're directions. At my age, and I'm
still young, I can't remember places.
I drove to Hatboro to mail my income
tax returns. "You can't get wet,"
I whispered, or they might get
suspicious and audit me. I raced
indoors, holding the two envelopes
aloft, like a squealing baby. Plop, plop,
they went, one after the other,
down the chute, like the sliding
board at my grandkids' house.
The rain removed an enormous branch
from "my" tree, which fell onto the
neighbor's plot. The fellow mows his
lawn, with gusto and whistling, any
time he pleases. That's men for you.
So, I must-needs remove the damn branch
and the little branchlets that went
down with Mama, so I squatted in my
pink socks and Birkenstocks, and
carried them all to my backyard
and gave them a good horseshoe toss
into the weedy little forest
behind my house, always expecting
to see Hansel and Gretel with their
sweet little anguished faces.
Shall I build a house of twigs
and branches and straw from
grass clippings and live
there de temps de temps?
Tell me. I value your opinion.
***