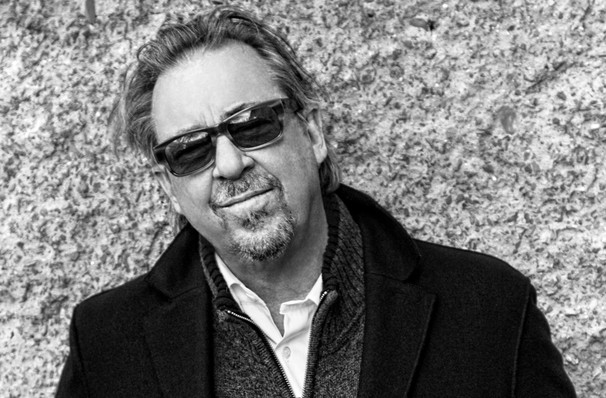 William Royce Scaggs
(known professionally as
Boz Scaggs
; born June 8, 1944) is an
American
singer
,
songwriter
, and
guitarist
.
[1]
He gained fame in the 1960s as a guitarist and one-time lead singer with the
Steve Miller Band
, and in the 1970s with several solo
Top 20
hit singles
including the hits "
Lowdown
" and "
Lido Shuffle
" from the critically acclaimed album
Silk Degrees
(1976), which peaked at #2 on the Billboard 200. Scaggs continues to write, record music, and tour.
[2]
What a masterful performance he and his band gave this evening.
You may think I was there by myself. No way. I was surrounded by 1199 other fans. Everyone, including me, was on their feet clapping, dancing, raising their hands up. I was also doing my neck exercises.
He mentioned how he loved to listen to the radio as a kid growing up in Texas. Turning that radio dial.
The photos I took are as bad, if not worse as always.
Treat yourself to a snack at Humpty Dumplings, a few doors down from the Keswick. These fried dumplings are filled with spinach, ricotta and mozzarella. Good but not great.
You sit on those high stools. I'm like a little midget trying to get the fuck up there. And my tush hurts from sitting on the edge.
Was tempted to ask one of the Dumpty waiters to lift me up but I was afraid he'd drop me.
Whale of a bus.
Now that the Kez serves food and drink there is constant motion of people leaving their seats to go feed themselves.
Oftentimes when they leave their seats they do a motion like in a ballet to get out of their seat and/or let someone in.
I stifled a hysterical laff when I saw the guy on the aisle seat on the right texting on his smart phone. It was all lit up like a porch light.
On stage, live and in person..... Boz and the gang. No one introduced them. I guess they all know each other anyway. A black woman named Christine was superb except the mic was too loud and I thought my cochlear implant would burst.
Oh, I forgot. I don't have an implant.
He did most of his fave songs plus some great new ones. He did the famous Lido Shuffle which I thought was called the Vido Shuffle.
BOZ SCAGGS CONCERT
When tickets became
available I did my
homework on
YouTube
Truthfully?
I had no idea
who he was, only that
he was good.
Would I regret my
decision to spend the
night with eight strangers
on a well-lit stage
staring ahead as
if we were the best
of friends?
Clearly my neighbors
were entranced. Doug
and Arlene were
standing up
beer in handy cup holders
they clapping stomping
raising high their arms
and singing, as if they
wrote the lyrics themselves
And heard them say
Wow! They are good.
They are good.
I would decide for myself.
Would I develop
during the next few
songs a fondness
for this once-famous
band who are traveling
in their tour bus
parked right outside
like a horse in
the oldtime westerns
Certainly the
theatre was
rocking, shaking
on its foundations,
if you stood outside
maybe the brick
was vibrating
ever so slowly.
But then like a
birder watching
the skies for
a red-tailed
hawk
I saw it
stroke into view
And was hooked.The rhythms,
the guitars, the xylophone
the voices lifting to
the gilded ceiling and
the half-moon waiting
outside
And I understood.
They were speaking
to me. And joy
filled me like a
hot cup of rum
by the power of
the music makers
on stage at
the Keswick Theater
in Glenside
Penn-syl-van - I -va.