I've always loved cemeteries. As a kid in Cleveland, my friend Nancy Wolen and I would stroll through cemeteries, quiet places for contemplation.
Nancy is an artist. One of her "masks" is at my mom's house.
I also wrote a cemetery story for the local paper which helped me come to terms with my dad's death in 1980.
this ex-pat here.
YOU figure it out.
make Bates' Bedspreads.
There's also Bates College in ME, founded by
abolitionists
.
dad in a warehouse in Cleveland.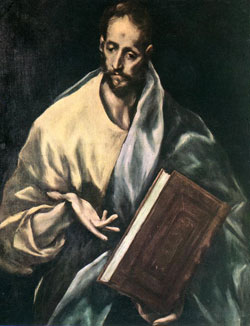 We passed a church called St. James the Lesser. Although I'm neither a Biblical nor Talmudic scholar, I do know a bit about the disciples.
James is often considered a brother to Jesus.
Read more here.
Did El Greco paint the above painting? The Internet knows all.
Let's have a brief conversation about today's heat. It was very hot today and still is.
94. I love the heat!
I just drove over to Radio Shack in Warminster to buy me a new headset for my home phone. Brought a cup of ice water with me and I wet my head before I got in the car.
You've gotta decide if you're gonna let it stop you.
The cemetery was filled with shady spots. I had a great time.
As I said to Renu, I love being a passenger so I can look around and leave the driving to someone else.