Since I rarely take the train, I had a 'cheat sheet' with me, helped by Scott, who takes the SEPTA train to work five days a week. He's also a mechanic on the El.
The crucial order is:
Temple University
Jefferson Station
Suburban Station
Thirtieth Station
Parked my car across the street from the station - God forbid I'd pay for parking -my car bounced off some gravel and I found a space by a barber shop.
Then, in my sneakers, I ran down the grassy hill, crossed the street and waited for the 11:49. I paced back n forth wearing my heavy backpack, stuffed with my lousy iPhone, which doesn't ring.
Sarah took the bus and told me she'd meet me at THE ANGEL at Thirtieth Street.
What angel, I thought.
It has a list of names Railroad Employees who lost their lives in World War Two, some 1.307 of them.
Chris Abrams and his friend Matt, both 19, were just here to trim my shrubs. They wanted $35, but I wrote them a check for $50.
You gotta walk around the yard and make sure they did everything correctly.
I told them to make sure none of the shrubs touch the house.
"My mom taught me that," I said.
Who uses the path? School kids. Won't they be surprised.
She turned around and agreed and asked about The Marce.
She's doing well, I said, and is one of my chief readers of my short stories.
Justin Neely
co-authored this book. Exquisitely illustrated.
I especially liked the dedication - click once to enlarge.
Quick miserable story: Altho I didn't order dessert, my sugar was 282, super-high. So I injected 10 units, the most I ever inject.
Sure enough, around 6:30 pm, I was 'low.' I knew b/c my vision was affected. The world was too bright. Plus I had broken out in a sweat.
Two sure symptoms.
I gobbled up the egg - delicious - and then other foods at the ready.
Scott stopped in as he was leaving for work.
I told him I would leave shortly for the Keswick Theater for the concert.
I had my printed-out ticket already.
First, though, I had to recover from my "low." I started walking around the living room.
My legs were sore from walking downtown.
Forget it, I thought. I'm not going.
Did you miss me,
The Church?
I missed you like crazy!!!
The
Psychedelic Furs
We stopped in a tiny book store called Avril 50.
Sarah was incredibly impressed by all the lit mags they had - including Threepenny Review where both she and Ethan have been published.
In an effort to support this tiny place, she ordered an espresso, deep and strong, which she enjoyed.
I asked the serious-looking owner, John, if his shop was "making it."
Hanging in there, he said.
You look like a college professor, I said.
I'm just a human being, he said.
As you may know, I'm totally addicted to Netflix - George Gently, Wallander, Midsummer Murders - and less so, Rectify and Jack Taylor - and my head reeled.
I thought I was in a Netflix movie.
Here's
Avril 30
, aka April 30.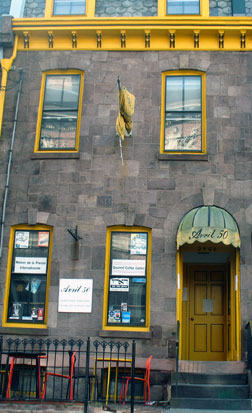 Good call, Sarah Lynn!!!
I bought all these great postcards. Sarah bought two chocolate bars for some friends she would visit in Newark, NJ, where she took a train to.
I know one person I'll
mail it to
.
We walked around and saw a sign for the Institute of Contemporary Art - the ICA - and walked inside the air-conditioned bldg.
Outside it was in the 90s.
The museum was free. Donations taken.
We made it. Sarah insisted I stand up with her in the very tiny space, about as roomy as the trunk of a car.
We were very proud of each other. At one point, while crawling, I bumped my head on the wooden top. The security guard heard it and yelled Be Careful!
There were two fab female guards who we had a lot of fun with.
Ain't life great?
We walked back to 30th Street Station in the blistering heat! We hugged and kissed goodbye and promised each other we'd do it again.
It was so easy!
I have a ton of work to do this afternoon, but ya know what I'm gonna do first?
George Gently, played by
Martin Shaw
.
Should I send him a postcard?
SARAH STARBURST
The gods spun her
down to earth
We think it was
Her majesty Marici
of the Chariot and
Many Arms.
A wrathful god,
her mood softened
and she knit her in
her mother's womb.
She grew toward
the Light, swimming
in the tiny pool, listening
to her mother's Miles Davis,
Beethoven's Ninth, and
Brownie McGhee.
She bore the compassion
of a draped Gandhi
the swiftness of a
cardinal diving into
the birdbath
the voice of
musical chimes
swinging at the gate
Yet, like all of us
we really don't know
where she's from or
why she's been sent.
A Black-Eyed Susan
who delights everyone
she meets.