How hilarious! On the other hand, what if it's true that Zombies are invading our land. At least it's not the Body Snatchers.
The 1956 version w Kevin McCarthy and Dana Wynter, tho the 1993 version with Donald Sutherland was just as good.
Chestnut Hill set her up for a year-long internship at the Veterans Administration on Woodland Avenue in Philadelphia.
She learned a lot and enjoyed her work. They offered her a job.
She is Assistant Director of the Addictions Recovery Unit and
Program Manager of the Opioid Treatment Program of the Philadelphia VA Medical Center.
In fact, today, was the naming of the medical center to Corporal Michael J. Crescenz Medical Center in Recognition of the Vietnam War Medal of Honor Recipient Michael J. Crescenz.
Read more about this soldier who gave his life for his country.
DRUG ADDICTIONS
From Wiki - A
methadone clinic
dispenses
methadone
(Dolophine), a
schedule II
opioid analgesic, to those who abuse
heroin
and other
opioids
. The focus of these clinics is the elimination or reduction of opioid usage by putting the patient on methadone.
Other drugs used to treat opioid addictions are suboxone and a monthly injection
of Vivitrol.
These drugs will not help those addicted to Xanax or Cocaine.
Where is the purest form of heroin found?
You guessed it. Philadelphia. The heroin is 87 percent pure and it's cheap. $10 per bag. Many people who use it will instantly overdose b/c it's so strong.
Fortunately, there's a Naloxone Rescue Kit, which police and paramedics carry. If you're passed out for a different reason, you won't be hurt by
the Naloxone
.
TREATMENT IS FREE to all veterans. This goes for other conditions as well which may not be combat-related.
There are satellite offices where veterans are also treated. In this area are outpatient clinics in Camden, Gloucester County, NJ, and at the former Willow Grove Navy Base.
B/c there are so many wars going on, we're learning, said Amy, better treatments for physical injuries such as brain trauma. The VA has a program where they hire patients and teach them to work in preparation for work on the outside.
Read my 2013 story on Patch.com where two Iraq and Afghan veterans find work is the
best source of healing.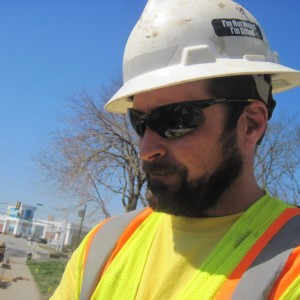 I encountered the two vets who were laying new water mains in front of the Upper Moreland Library.
My current book.
Sadly, British author Ruth RENdell died today of complications of a stroke. In the kitchen I'm listening to her
An Inspector Wexford novel.
President Obama in 2008 said you can receive compensation and a pension if you fought in Vietnam. All you need is your discharge papers. Previously you neede long-winded proof of the places where you fought.
Amy and the other therapists must learn about different military cultures including racial, socioeconomic, and religious.
Most veterans refuse help. They believe that nothing can "break them," said Amy. That they are part of a culture of strength and resilience. Stigma against physical and mental limitations.
Altho the US has been in Afghan and Iraq for more than 10 years, few veterans are coming forward for help. It takes a while. Failed marriages, drinking, drugs, loss of jobs, depression.
In Afghan, people are on "high alert." Constant vigilance. It changes the way the brain works.
PROTECTIVE FACTORS from PTSD and substance abuse
Being married
Being older
You're not an ethnic minority
Good support system
Higher socioeconomic status
FIRST THING is to diagnose the patient. Amy gets an hour to do this. She tells the client she'll be typing her notes on a laptop, but engages in eye contact.
She asks them how they view being a veteran. For some, it's how they identify themselves.
The sad fact is that many veterans believed they had a career in the military. However, when they were injured this dashed their plans. What will they do now? They can no longer continue the tradition of a "military family."
Clients say they want to work on their depression. There are evidence-based treatments that are used. Cognitive behavior therapy and possibly antidepressants.
Finding the right treatment, said Amy, is like putting a Rubik's Cube together.
Client may mention that in Afghan there were IEDs in the road. When they returned home, a plastic bag may be on the side of the road, triggering a thought that it's an IED. The veteran then overreacts in order to get away from the supposed danger.
They also suffer from road rage.
Many veterans have stopped driving entirely.
To enter the military, you cannot be on any medication. It will not be available in war zones.
Today, noted Ada Fleisher,
the standards to enter the military have been lowered, so that some people with criminal backgrounds are accepted.
MORE ON ADDICTIONS
You must be ready to get rid of your addiction.
Why do people become substance abusers - alcohol or drugs?
Usually a traumatic event as a child or teenager. Sexual abuse, physical or mental abuse. Death of close family member.
These events are discussed.
More common with lower socioeconomic individuals. A lot of them grow up in an atmosphere of abuse and a culture of drug addiction.
Other factors are length of service, are you a volunteer or were you drafted - sent over against your will?
Did you experience racism in the service?
She asks about client's "pre-morbid condition" or your mental / addiction history before you went into the service.
Many in the area were affected by gang violence in the neighborhood.
There is finally compensation for those affected - or killed - by Agent Orange. The federal government is still quibbling whether to allow reservists who handled the Agent to
receive compensation.
Terrible side effects from
Agent Orange.
Across America, there are not a lot of VA Centers.
So tele-therapy is often provided.
Drug OxyContin was originally used to help pain in terminally ill cancer patients. Developed in 1917 in Germany,
read more here.
Amy develops various strategies for clients to follow.
Exposure therapy helps those with PTSD, a term that was unknown until the 1980s, though after the first two World Wars it was called "shell-shocked."
The traumatized individual repeats the tale of his trauma to the therapist. It is not done in a group as it may trigger another member to remember something terrible.
You repeat your tale over and over and assign it a number from 1 to 100.
It's very difficult to do, but the fact that Amy or another therapist is listening to you makes it easier.
EMDR
is not used. It doesn't work.
Clients are also taught to re-socialize. Once a soldier is removed from the war environment he must learn how to live a so-called normal life, which is now quite foreign to him or her.
The clients talk with one another, play games and cards and might take an excursion to the Art Museum.
There are also chaplains on hand for spiritual guidance.
As you can see, many approaches are used to help the veterans. Couples therapy is used.
Due to Congressional orders in 2012 and 2014 the number shot up for 40, which is still not enough.
One success story Amy mentioned was a Viet Nam vet who couldn't sleep through the night as he had nightmares.
You can't see what's happening in the dark, so he slept fitfully for one or two hours at a time. He could sleep during the day.
His problem subsided when they did
"imagery rehearsal" which is considered a type of cognitive behavior therapy.
One thing she does not do is watch war movies like An American Sniper. Neither do her colleagues.
She has supervision, she said, where she talks to an advisor about her clients. This is very important. She also has many healthy interests. She exercises and she loves to cook.
Every day she walks into the VA is a chance to help a veteran live a better life.
As a gift, we gave her a Buddhist mandala, as suggested by Brett.
When I was doling out the Mandala postcards I sent one to a surprise guest.